The Exycle is a very original technical realisation of the idea of making cycling into a way of exercising the whole body. The prototype which we tested was safe, technically sound and fun to ride.

We consider the Exycle (with its various modes of employment) to be very suitable for health and fitness programmes. It could even be meaningfully adopted in serious sports training programmes, e.g. in preparatory or transitional phases of training programmes for sports involving strength.

Can the maximum weight load for the whole body be attained?

The Exycle as a training concept is similar to the use of a cross-trainer and also the practice of Nordic Walking. With all these new forms of sport a "whole body exercise" has been developed out of an already known form of exercise (such as walking or cycling).

This has been achieved in an original way with the Exycle. The definite advantage of the Exycle is the strengthening of additional muscle groups by the use of the arms whereby training becomes more effective through the expenditure of additional energy. A further advantage is the attraction of doing it in the open countryside.

The only condition of course, is that you know how to ride a bike.
General impression: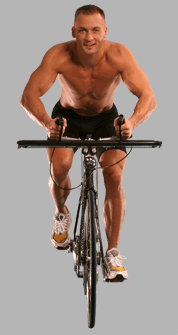 The power and the endurance of the whole body is trained, even more fat burn and circulation work-out with a full body effect.
(more…)