Have you ever asked: "How can I put my arms to better use while cycling?
Why can't I train my upper body when riding my bike?"
Safety issues probably prevented trying to use an upper body exercise system when riding your bike, but…

With the full body bike Exycle You Can!

The dumbbell fly motion of the exycle with its cable drive system makes your bike a two-wheel drive, Total Body Workout Bike!

With Exycle You Can:

get a total body workout outside of a smelly gym in open air with beautiful scenery
go somewhere when you exercise
cycle as fast as a professional cyclist
return to cycling even after a knee injury
build your arm, shoulder and chest muscles
| | |
| --- | --- |
| | Your existing Bicycle can become a Total Body Workout Machine and you still can ride it as you would a normal rear-wheel drive bike. The exycle kit and a simple retrofit makes it all possible. |
Why Exycle?
How does it work?
What do the experts state?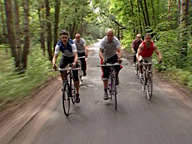 Download Video:
Windows Media Video (6.4 MB)
Apple Quicktime MPEG-4 (8,0MB)